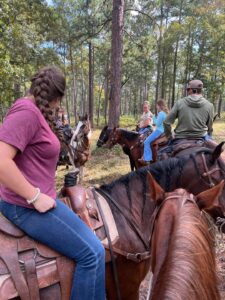 Welcome to Cricket Hollow Stables, located in Abbeville, SC. Enjoy a true country trail ride with your family inside Long Cane State Park. Our scenic trails are sure to delight and bring joy to first time riders and those who have ridden thousands of times. With McCord Creek and Long Creek running through the trail, we have water features, amazing views, and hundreds of miles of forest trails. We would love to share the experience with you and your own horse, or you can use one of our horses who are great for all experience levels. Each one of our horses are unique with special personalities, we always do our best to match the best horse with their rider. Give us a call to reserve your ride!!
Pricing
1 hour – $70 per person
2 hours – $110 per person
3 hours – $180 per person
*** Bottled water and light snacks provided for trail rides 2 hours or more
Information
The health and safety of our houses is our top priority. Therefore, a weight limit strictly enforced. The maximum they can carry is 240 pounds. If necessary, we will weigh riders privately at check-in and if you exceed the limits, you cannot ride, and no refunds will be given. It is your responsibility to know your weight before arriving at the stables to ensure you are eligible to participate
The age minimum is 8 years old for Trail Rides. Due to our concern with the risk to your child's safety, we do not offer any double riding. Children 8-12 years old are required to wear a helmet
Please leave your dogs at home! We love dogs and do not wish to see them left in a hot car. Non-ranch dogs pose a safety risk around horses
We ride in all-weather, including rain and snow
Weather cancellations shall be at the sole discretion of Cricket Hollow Stables
Please remember that the weather patterns in this area are highly localized. We encourage you to check the forecast the morning of your ride to allow you to prepare appropriately
All rides require advanced reservations to ensure availability
Reservations are subject to a 48-hour cancellation policy. Groups of 9 or more have a NON-REFUNDABLE 50% deposit
We add a 10% gratuity for parties of 9 or more. For unaccompanied children, we add a 15% gratuity
Recommendations for the Best Ride Possible
Long pants and jackets or layers
Bug Spray, sunblock and a water bottle
Cameras are a MUST!
Sneakers or cowboy boots strongly recommended
Must wear boots or lace up shoes with socks. No sandals, slip-ons, flip flops, or open toed shoes allowed
NO heavily-treaded hiking boots as they won't fit in the stirrups
No purses or over the shoulder bags. Backpacks, fanny packs, or anything that can be secured to your body are permitted
Arrive a half hour ahead of your scheduled ride time- the ride leaves at the scheduled time and cannot wait for you. There is paperwork you will need to fill out, so we appreciate you being 30 minutes early
*Prices subject to change at any time
Pony Rides
Reservations strongly suggested.
Ages 2-7
All pony riders must be accompanied by a walking adult
​Cash only- no credit cards
Pricing
$20 per rider
​*Helmet required
Need To Know
Children and parents must wear boots or lace-up shoes. No sandals, slip-ons, flip flops, or open toed shoes allowed!
​*Note to grandparents/friends/family members: If you are bringing a child that you do not have legal guardianship over, please have parents fill out the Parental Permission form.   
*Go to Waivers and print off and bring hard copy with you.