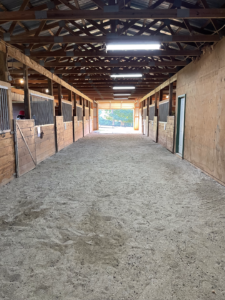 This gorgeous 37 acre facility has everything a horse lover could ask for. From the competitor to trail riding guru to retired lawn ornaments, we welcome all fur babies and their human companions.
Our Amenities Include
Large well groomed arena complete with a crows nest that we use for in house events
Small dressage arena
75 foot round pen, perfect for the green horse and rider or just to let your baby blow off some steam before your ride
Two 5 acre turn outs with lush Bermuda grass in the summer and Rye in the winter. All horses are turned out daily (weather permitting)
Use of 500 acre land that backs up to a national forest. Perfect for a casual trail ride or long training rides
Trainer on staff and available for training rides, lessons, and advise if desired
Stalled horses fed twice daily and free fed in pasture daily (during inclement weather horses will be free fed through a hay net)
Stalls cleaned twice daily, new bedding added daily
Water changed and cleaned daily
Blanketing
Fly sheets
Fly Spray
*** Coming soon: More turn out areas, petting zoo, events, summer camps, and a working trail. Perfect for teaching your horse to walk on a trails, through trees, over rocks, some cross country schooling or just have a nice hack
Boarding Fees
Pasture Board $375 per month
Stall Boarding $550 per month
Additional Services
Lessons, Grooming, Training rides, Body Clipping (full or partial), horses leasing, horse sales
Give us a call we'd love to hear from you and answer any questions you may have and show you around our new and improved facility.
Cheryl Davidson
Barn Manager 864-500-5606